Related Products & Services
Other Ways to Get Smart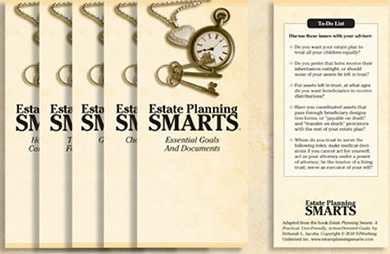 Some professionals have inquired about other products based on the book. In response, we developed a series of single-issue client education brochures. They provide an independent perspective on the adviser's value added and include mini-versions of the To-Do lists found at the end of each book chapter.
We currently offer five brochures:
Give Your Plan a Check-Up
How a Roth IRA Can Benefit Heirs
Trusts: Not Just for the Wealthy
Essential Goals and Documents
Choosing a Trustee
Advisers can distribute these brochures with a letter or business card, or place copies in their waiting room. The brochures are available as shown here, or by special order with your logo and contact information. For an order form, click here
Events for Clients and Advisers
Deborah L. Jacobs engages audiences with practical information they can immediately apply to their work and their finances. Participants appreciate her clear, concise explanations of complex subjects and her ability to combine real-life stories with reassuring, practical advice. Listeners say they feel like they're sitting at the kitchen table with a knowledgeable, trusted friend.
The following programs can be geared to consumers or advisers. Those for advisers include suggestions about how to offer a value added to clients, and can qualify for continuing education credit.
Morphing Into the New Age of Estate Planning
The 10 Mistakes I Hear About Most Often
Strategies to Help Family Now, Not Later
Flexible Giving Tools for Tough Economic Times
Estate Planning Is A Women's Issue
Trusts & Estates Practice in the Age of LegalZoom
For information, contact Nicole Maholtz at nicole@estateplanningsmarts.com or (800) 694-7624.