About the Author
An experienced lawyer, Deborah Jacobs has spent most of her career as a writer, "translating" technical topics into plain English. She has been a syndicated newspaper columnist, a newsletter editor, and a freelancer for many national publications, including The New York Times, Inc., and BusinessWeek. A senior editor at Forbes, she blogs at www.forbes.com/deborahjacobs/blog
Estate Planning Smarts is a product of Jacobs' personal experience, as she notes in her introduction:
Like many other people, I didn't used to think much about estate planning. Longevity ran in my family, and hardly anyone ever died. Then, in the space of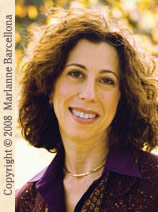 three months, three major events gave me a cold shot of reality. I became a parent, lost a parent, and following my father's death found myself in charge of a trust that my grandmother had set up. Soon after, an editor at Bloomberg called to say he was looking for someone to write about estate planning. I decided to turn my attention to this important topic that had suddenly become so relevant to my own life.
During the twelve years that estate planning has been her specialty, Jacobs has developed a strong following among readers who rely on her expertise and clear, concise explanations of an often complicated subject. For six years, her work on the subject was the centerpiece of Bloomberg Wealth Manager magazine, and won a number of awards.
After Bloomberg sold Wealth Manager in 2005, Jacobs broadened her client base to include financial institutions involved in wealth management. Her assignments for them have included white papers, case studies, articles for custom publications (such as magazines, websites and newsletters) and marketing presentations.
In 2006, Jacobs expanded her business by starting Smart Giving Strategies Inc. a publishing boutique dedicated to providing charities with results-oriented communication to reach donors and advisers. The company supplies content, graphic design, illustration research and printing services – as a package, or à la carte. See www.smartgivingstrategies.com
As a lawyer, Jacobs writes with the voice of authority. As a journalist with extensive experience covering wealth transfer subjects, she writes with clarity and compassion about issues that affect us all.

A native of New York and a graduate of Barnard College, Jacobs received her J.D. degree from Columbia Law School and her M.S. from the Columbia Graduate School of Journalism. She lives in New York City with her husband and son.