Order the Third Edition, including 2012 tax law changes
After The Fiscal Cliff Deal: Estate And Gift Tax Explained
Archive of my Forbes blog posts and magazine articles
There's been plenty of talk this year in Congress about the estate tax law. But don't let all the talk obscure a basic fact of life: everyone, regardless of net worth, needs an estate plan. Estate Planning Smarts, by Deborah L. Jacobs, goes far beyond taxes to help you achieve all the goals that are the essence of estate planning.
Above all, estate planning is a way to take care of yourself and the people you love. It can minimize the hardships of your old age. If you are married or in any other committed relationship, estate planning is about leaving a financial cushion for your spouse or partner. It also includes providing funds for a child's or a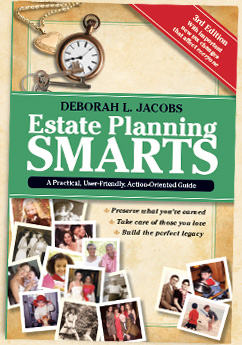 grandchild's education, subsidizing less fortunate family members and benefiting charity. For parents of young children, estate planning is a way to make sure someone will care for them if you suddenly perish. Whatever might be happening in Washington, no one should postpone the necessary steps.
Regardless of your net worth, a good estate plan should accomplish these essential goals:
Caring for yourself by authorizing people to handle your affairs if you no longer can because of illness or disability
Specifying who gets what after you pass away
Providing for children who are minors or who have special needs.
In many estate plans, trusts play a crucial role. Although they are commonly associated with financing lavish lifestyles, they serve other key purposes. Trusts can be used to hold money for minors, forestall spendthrift family members, protect assets from former spouses or creditors, or even make provisions to care for pets that survive you.
Written for people who don't want to leave their finances to chance, Estate Planning Smarts can help educate you before seeing financial advisers, during the estate planning process and later as your life circumstances change. An annotated Table of Contents, phrased in terms of personal or financial goals, doubles as a checklist.
Estate Planning Smarts is also the first book about the subject to be set in the context of the current economic crisis. And unlike most books designed for consumers, it will be kept updated – through this Web site. Tax rates reflect those that were in effect when the book went to press. To learn about how the new tax law affects your estate plan, download the latest update.
To see other portions of this Web site most relevant to your situation, please indicate whether you are interested in this book for yourself, or for a friend or a family member, or whether you are a professional who works in estate planning or a related field.
Follow Deborah Jacobs on